News And Announcements
Event Calendar
‹ First
<
15
16
17
18
19
>
Last ›

Goatling Spotlight! Twizzles!
Posted by

Krisgoat mod
on 01-13-19 03:02:46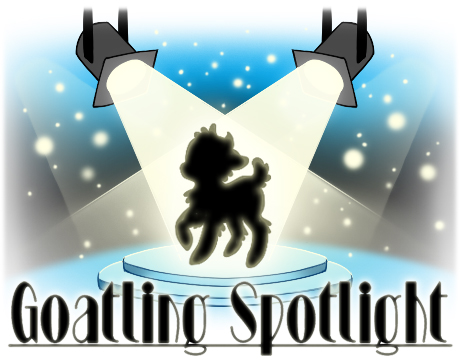 Welcome to Goatling Spotlight! A mini event where we get to show off your favorite Goatlings! Each week a new Goatling will be featured in the News and the owner will receive a shiny Spotlight Trophy to display on their pets page or in their collection. This week is all about Twizzles!



Name: Twizzles
Appearance Doll: Ice Skates AD
Guardian: @kaylinity Give Love!
Bio: Twizzles got her name from a rotational one-foot turn commonly practiced in ice skating. Her passion is to skate but her hobbies are, well... mischievous.




Favorite Treasure
Defaced Portrait | Cola Yum Slush | Disguise Glasses | Heartshaped Sandwich | Wind Up Teeth



Short Story
Twizzles is energetic, humorous, and always seeking new oppurtunites to make her friends laugh. She is a competitive skater whose grace and skill is hard to compare to. She mastered having excellent balance and flexibility from practicing with her closest friend, Hansika. When she's not skating, she's pulling comedic pranks with Wrynn. She's loud, she's proud, and the best skater in town.



Art by kaylinity


Art by kaylinity

CLICK HERE for more details, past spotlights, and to enter your Goatlings!
6 Comments
<
1
2
3
4
>
Last ›