News And Announcements
Event Calendar
‹ First
<
17
18
19
20
21
>
Last ›

January | Design-A-Goatling Decades of Fashion | Ancient/Prehistoric | VOTE NOW!
Posted by

Krisgoat mod
on 01-26-19 09:26:30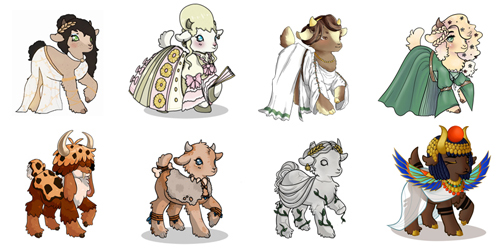 CLICK HERE TO VOTE!


It's time to vote for your favorite member created Goatling design! Vote by clicking the 'like' button next to your favorite Goatling! Choose wisely because you can't take back your vote. Please only vote 1-3 times. (Top choice, top two choices, or top three choices) In the case of a tie, Goatlings.com staff will cast their votes to determine the winner. Voting will be open until about January 31st.










+ First Place - Free AD of their design and 30 Goat Tokens

+ Runner Up - 20 Goat Tokens

+ Honorable Mention - 10 Goat Tokens

+ All participants will receive a special gift inspired by the winning entry.

All First Place designs will be permanently added to the Appearance Doll Shop and the designer's name will be added to the item description.

CLICK HERE for main event page with details and schedule!



1 Comments
<
1
2
3
4
>
Last ›