News And Announcements
Event Calendar
‹ First
<
17
18
19
20
21
>
Last ›

Beans?
Posted by

Krisgoat mod
on 04-07-19 01:49:28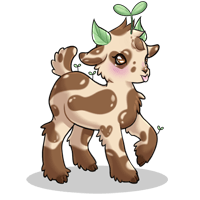 It appears that with a little care and attention the strange sprouts are... growing?! If the sprouts continue to be cared for who knows what will happen!

--- --- ---

Visit the Misty Meadows 4 Explore Area to find a rare and unusual Goatling. Challenge them for a battle and take any beans you may come across to Zurora's Craft Shop. The mysterious beans can be crafted to make a Bean Sprout. Click here to view the craft recipe.

The sprout doesn't seem to be edible, however when placed close to another Goatling their appearance seems to change in a very strange way!

Warning from Zurora: The sprout growth seems unpredictable! There's no telling if these will spread, or what the permanent result will be if used. To be safe, do not use on a Goatling that has an Appearance you want to keep!

This event will end at the end of the month!

16 Comments
<
1
2
3
4
>
Last ›