News And Announcements
Event Calendar
‹ First
<
183
184
185
186
187
>
Last ›

Creative Park!
Posted by

Krisgoat mod
on 08-25-13 02:58:42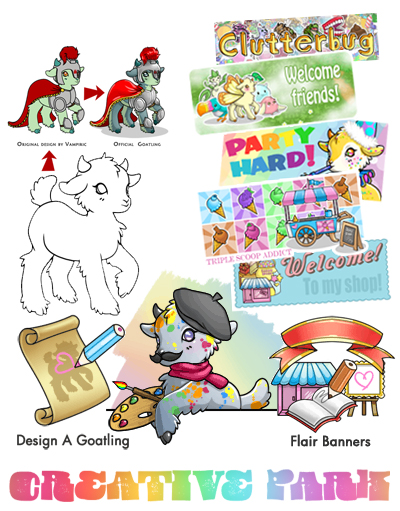 2012/04/13
A new attraction has opened its doors in the Goatligns kingdom. Welcome to the Creative Park!

Design A Goatling
Grab your medium of choice and design a Goatling! All skill levels are welcome and your design may become a official pet! If your design gets chosen it will be redrawn by one of our head artists and you will receive a free Appearance Doll of the finished Goatling! Start from scratch or use the template.

Flair Banners
Put some flair on your profile, shop, and gallery. Just copy the provided code and paste it into the description box belonging to the area you want to update. The banners are organized in different categories for convenience but either one can be used in either place. Mix and match to express your personal style!

More fun activities and graphics will be added overtime.

1 Comments
‹ First
<
17
18
19
20
21
>
Last ›