News And Announcements
Event Calendar
‹ First
<
18
19
20
21
22
>
Last ›

Goatling Spotlight! Dorothea!
Posted by

Krisgoat mod
on 03-30-19 08:54:40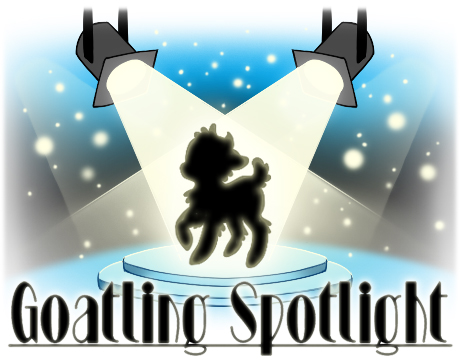 Welcome to Goatling Spotlight! A mini event where we get to show off your favorite Goatlings! Each week a new Goatling will be featured in the News and the owner will receive a shiny Spotlight Trophy to display on their pets page or in their collection. This week is all about Dorothea!




Name: Dorothea
Appearance Doll: Minty Melt
Guardian: @vulpecula Give Love!
Bio: Dorothea is quite the little drama queen - the actress of the family. She owns an ice cream shop, but if you call it anything less than a "gelato parlor" to her face you'll regret it - her pride is legendary. She's always coming up with new, strange flavors, and divides her time equally between her shop and acting in all the latest plays at the theater. She is single and has never had children, but has longed for them most of her life. Instead, she takes care of all her friends' children, and babysits around the neighborhood as much as she can.




Favorite Treasure
Banana Split | Crescent Moon Scoop | Strawberry Sundae





Art by @aven12

CLICK HERE for more details, past spotlights, and to enter your Goatlings!
2 Comments
<
1
2
3
4
5
>
Last ›