News And Announcements
Event Calendar
<
1
2
3
4
5
>
Last ›

Goatling Spotlight! Kalos!
Posted by

Krisgoat mod
on 07-30-17 06:03:58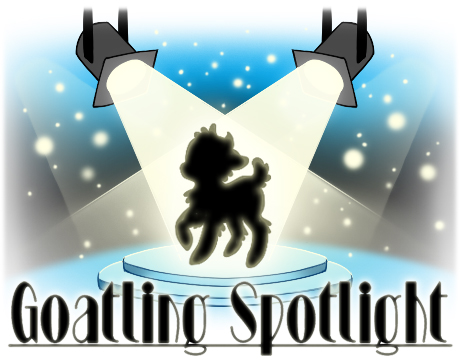 Welcome to Goatling Spotlight! A mini event where we get to show off your favorite Goatlings! Each week a new Goatling will be featured in the News and the owner will receive a shiny Spotlight Trophy to display on their pets page or in their collection. This week is all about Kalos!



Name: Kalos
Appearance Doll: Unigoat AD
Guardian: @TacoTier Give Love!
Bio: Studious, intelligent, and determined. Those are the traits that make up Kalos. She has been studying magic ever since she was a little goatling, she's always had her head in a book, or she'd be practicing new spells! She has recently found out that the Ethos Gems have helped her improve her powers, as a result, she has been studying the power of the gems for quite some time now.
If she isn't studying, she can be found hanging out with a few of her friends! Or sleeping, most of the time! Staying up late to study can be quite draining!




Favorite Treasure
Ethos Gem 1-6 | Fancy Coffee











Short Story
There was never a time where Kalos wasn't studying in the past. Always had her head in a book, with little to no social contact, aside from those in what she called her family. Basically, she was a shut-in, and she was not proud of that.
Most of her nights consisted of her staying up late, starting from the rising of the moon, up until the first shine of the sun. Same with her days, however, she slept in from the first shine of the sun, until sunset came along.
It wasn't until long until she was coaxed to leave her studies for a bit and socialize. It was until then that she remembered how fun it was to spend time with her friends and loved ones. Since then, Kalos had promised to spend more time with the ones she loved, instead of burying her head into a book.
Even with her current researches and studies, she'll manage her time well to make room for studying, and socializing.



Art by @BirdsAndProblems



Art by TacoTier

CLICK HERE for more details, past spotlights, and to enter your Goatlings!
5 Comments
1
2
3
>
Last ›