News And Announcements
Event Calendar
<
1
2
3
4
5
>
Last ›

Goatling Spotlight! _Peachy_!
Posted by

Krisgoat mod
on 12-31-17 02:14:06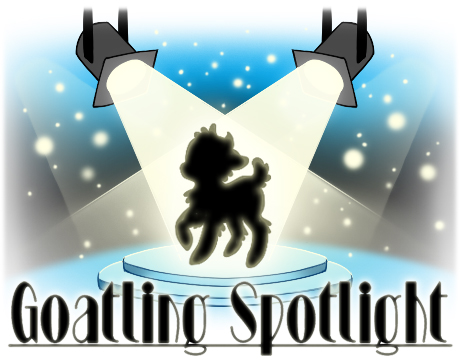 Welcome to Goatling Spotlight! A mini event where we get to show off your favorite Goatlings! Each week a new Goatling will be featured in the News and the owner will receive a shiny Spotlight Trophy to display on their pets page or in their collection. This week is all about _Peachy_!



Name: _Peachy_
Appearance Doll: Dawn Flight AD
Guardian: @Peachie_Tea Give Love!
Bio: _Peachy_ Is a smart, respectful sweet goat who loves nature, and everything about it. She cares for the smallest flower buds to the biggest elephants. She strives to be her best and absolutely loves summer and candied nuts.


Favorite Treasure
Candied Nuts | Lovers Card | Coastal Cutie Shades







Short Story
_Peachy_ peeped around the bush. "Found you!" She tagged the baby bunny. "Oh... Your mom is back." She had been babysitting the bunny. "Bye!" She said as the little bunny hopped off to meet its mother. She climbed up into the tree she called home, but suddenly she heard a crunch, munch. "Who's there?" She called. "What was that? Who's living in my tree? Are you a bird?" She peaked around the leaves. A human! "Ahh!" She yelped. "Your a human!" The tall being stood, its golden hair flowing about and it's scarf fluttering about in the wind. "And what are you?" The human said, holding out a candied nut treat. "That's good!" _Peachy_ said back. "What was that?" The human responded "It's a candied nut." The person paused. "Whats your name?" The human paused. "_Peachy_." And they where friends ever since.



Art by @BlueBurryWaffles



Art by @CynTiel and @Bunnikat

CLICK HERE for more details, past spotlights, and to enter your Goatlings!
4 Comments
1
2
3
>
Last ›