News And Announcements
Event Calendar
<
1
2
3
4
5
>
Last ›

Goatling Spotlight! Peacekeeping!
Posted by

Krisgoat mod
on 11-24-19 01:56:22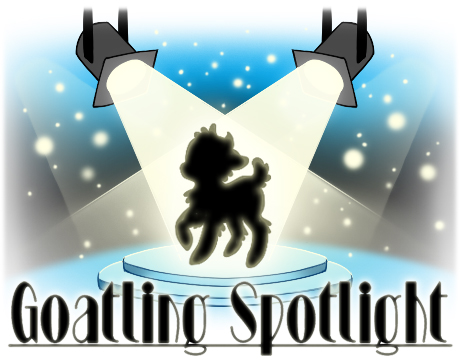 Welcome to Goatling Spotlight! A mini event where we get to show off your favorite Goatlings! Each week a new Goatling will be featured in the News and the owner will receive a shiny Spotlight Trophy to display on their pets page or in their collection. This week is all about Peacekeeping!




Name: Peacekeeping
Appearance Doll: Messenger Of Peace AD
Guardian: @Amane27 Give Love!
Bio: The Keeper of Peace and Tranquility, Deirdre

Abandoned at birth in the majestic mountains, Deidre was raised by the locals. She adores her big, adoptive family, and has learned all sorts of amazing things from them.

She loves to help other Goatlings with their troubles and has a calming aura about her.




Favorite Treasure
Peaceful Cloak | New Growth | Love Bird





Art by @CAPSLOCK

CLICK HERE for more details, past spotlights, and to enter your Goatlings!
3 Comments
<
1
2
3
4
5
>
Last ›