News And Announcements
Event Calendar
‹ First
<
92
93
94
95
96
>
Last ›

NEW Treasure Trivia - November!
Posted by

Krisgoat mod
on 11-11-14 12:59:36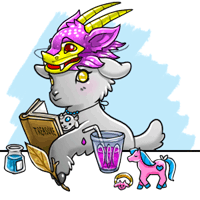 Oh hey! Did you see that new item being stocked in the shops? I want 20! I just love collecting rare and exclusive items for my treasure. I keep an inventory of my collection in this book so I can make sure I don't miss one. Although, I spilled my drink on this page and now the image is smudged. Of course I can still tell what it is. If you can, I'll give you one of my duplicate items!






Click here to play Treasure Trivia now!

Treasure Trivia prizes are limited edition and will retire when a new game is started! New games start within the first week of each month. You may need to refresh the page to see the new Treasure Trivia items! Have fun!
13 Comments
‹ First
<
8
9
10
11
12
>
Last ›