News And Announcements
Event Calendar
‹ First
<
16
17
18
19
20
>
Last ›

Winter Limited Edition Diamond Dust Special - Polar Ursa!
Posted by

Krisgoat mod
on 12-03-19 04:27:37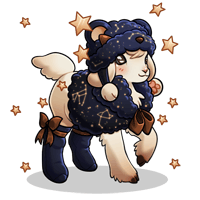 Open this adorable box to receive one of these fluffy Limited Edition items!

Polar Ursa AD, Polar Ursa Hat, Polar Ursa Coat, Cream Polar Ursa Hat, Cream Polar Ursa Coat, Polar Ursa Stars, Polar Ursa BG, or Polar Ursa Teddy.

Polar Ursa Box is exclusively available at the Diamond Dust Shop for the remainder of this Winter season (December, January, February). These limited edition items will retire at the end of February.

Polar Ursa Goatling and accompanying loot are original member designs by @Lostysaur so make sure to send a little extra love today!



18 Comments
‹ First
<
16
17
18
19
20
>
Last ›