News And Announcements
Event Calendar
‹ First
<
201
202
203
204
205
>
Last ›

Goatling Goature - Partytime!
Posted by

Krisgoat mod
on 2015-03-30 09:45:20

Ever wanted your HA buddy to match your favorite Goatling or Baddy? Well now you can! Goatling Goature is a mini event for debuting full fashionable sets inspired by Goatlings, Shopkeepers, and Baddys. So now you really can "get the look"!

This is the first installment of Goatling Goature featuring Partytime!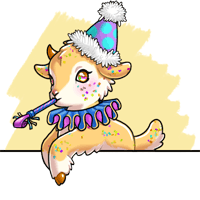 Item Locations










HA Buddy Boutique: Partytime BG, Lil Orange Horns, Partytime Frill, Partytime Hat, Partytime Noisemaker, Partytime Ears.








HA Buddy Face Space: Orange Round Brows, Partytime Eyes, Goat Mouth or Cute Mouth, Goat Nose.




HA Buddy Base Place: Partytime Fur

Click Here to visit the official Goatling Goature thread for outfit references.


43 Comments
‹ First
<
201
202
203
204
205
>
Last ›