News And Announcements
Event Calendar
‹ First
<
202
203
204
205
206
>
Last ›

NEW Treasure Trivia - January!
Posted by

Krisgoat mod
on 01-03-15 08:57:39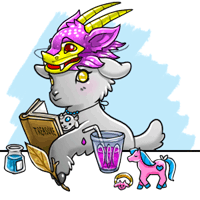 Oh hey! Did you see that new item being stocked in the shops? I want 20! I just love collecting new items for my treasure. I keep an inventory of my collection in this book so I can make sure I don't miss one. Although, I spilled my drink on this page and now the image is smudged. Of course I can still tell what it is. If you can, I'll give you one of my duplicate items!






Click here to play Treasure Trivia now!



New Treasure Trivia games start within the first week of each month. You may need to refresh the page (or press Ctrl+F5) to see the new Treasure Trivia items!

Important Notice: There has been a slight change in how the prize for Treasure Trivia works. From now on, the Treasure Trivia prize will NOT retire. The prize will be a brand new Shopping District item. The item will be marked as a rare item instead of a typical common item. This will make getting certain elusive new items easier to collect, and also eliminate some of the anguish created by long retired items.


9 Comments
‹ First
<
202
203
204
205
206
>
Last ›