News And Announcements
Event Calendar
‹ First
<
321
322
323
324
>

Thank you! - Baddy Invasion!!!
Posted by

Krisgoat mod
on 2013-08-24 10:26:56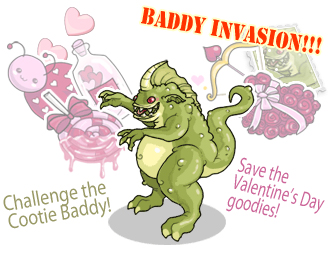 2012/02/01
It has been one month since the Goatling's website debut and we already have 259 members! Thank you everyone for playing and for your patience while we set up the rest of the features and perfect the current ones.

Welcome February - the month of romance! Oh nos! A gruesome Cootie Baddy has appeared at the Battle Center and is threatening to ruin Sweetheart's Day! He's taken all the Sweetheart's Day goodies and says he will only give them back if some brave Goatlings can match his challenge. Can you help save the goodies from his sour claws?


1 Comments
‹ First
<
321
322
323
324
>