News And Announcements
Event Calendar
‹ First&nbsp<&nbsp336&nbsp&nbsp337&nbsp&nbsp338&nbsp&nbsp339&nbsp>&nbsp

NEW Baddy drops!
Posted by

Krisgoat mod
on 2013-08-24 10:20:51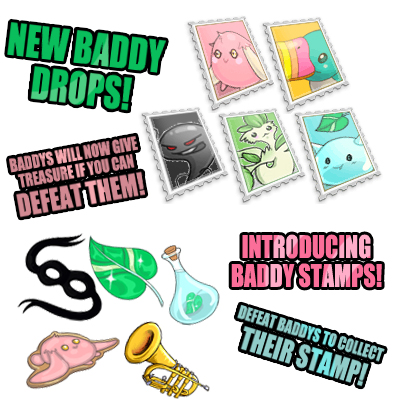 2012/01/22
We would like to introduce a new collectable item; Baddy stamps! If a Baddy is impressed by you and your Goatling they will drop stamps during battle. Perfect for your gallery and trading with friends! Baddys are now in the habit of dropping other treasure during battles as well!

The Apostrophe Baddy is feeling defeated and has agreed to leave the Goatlings town and inhabitants in peace. He is sticking around the Battle Center for another three weeks to accept any last challengers for fun! Now is your chance to collect the rare Apostrophe baddy stamp before he is gone forever!


1 Comments
‹ First&nbsp<&nbsp336&nbsp&nbsp337&nbsp&nbsp338&nbsp&nbsp339&nbsp>&nbsp