News And Announcements
Event Calendar
‹ First
<
3
4
5
6
7
>
Last ›

Goatling Spotlight! Taffeta_Taffy!
Posted by

Krisgoat mod
on 2022-10-29 03:51:05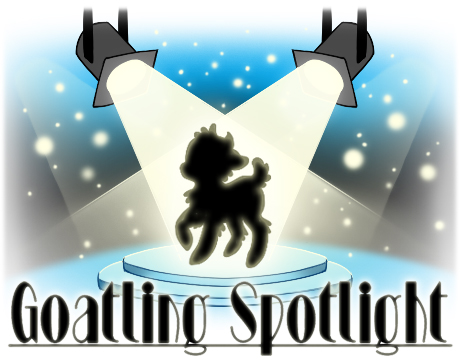 Welcome to Goatling Spotlight! A mini event where we get to show off your favorite Goatlings! Each week a new Goatling will be featured in the News and the owner will receive a shiny Spotlight Trophy to display on their pets page or in their collection. This week is all about Taffeta_Taffy!




Name: Taffeta_Taffy
Appearance Doll: Sweet Bat AD
Guardian: @Cupcake_Princess Give Love!
Bio: The sweetest fashionista you'll ever meet, Taffeta Taffy is a skilled seamstress who loves nothing more than sewing super cute dresses, pillows, and plushies for her friends! She especially adores creating pretty outfits for her little sister Lottie, who loves dressing up in Taffeta's designs. She also has a huge sweet tooth and can never get enough candy, so you'll often find her visiting Thalibelle and Toffee Sweet to try their latest creations. She loves looking her best and, of course, always wears outfits she designed herself!




Favorite Treasure

Sweet Heart Pillow | Sweet Bat Plush | Sweet Bat Sucker





Short Story
Taffeta Taffy sat at her sewing machine, deep in thought. It was her little sister Lottie's birthday the very next day, and she wanted to give her something extra special, but she was out of ideas. She had already made her plenty of adorable dresses and plushies, and she wanted her present to be unique. "What gift would Lottie love?" Taffeta asked herself.

Just then, Lottie burst into the sewing room, making Taffeta jump. "Hello Taffy! What are you doing?" Lottie asked. She was always curious about her sister's sewing projects. "Oh, nothing... What have you been up to?" Replied Taffeta. "I've been playing with my dolls! Pearl Rose and Lovelyling just had a wonderful tea party! Next they're going to Pointeling's ballet concert, and then they'll all go to a ball!" Lottie said excitedly.

Taffeta smiled. Lottie loved her collection of dolls so much... Taffeta suddenly had a great idea. She could make dresses for Lottie's dolls!

Read the rest of the story here!



Art by @SugarDream | Art by @6thplanet



Art by @azavo | Art by @Runell




Art by @migasm | Art by @Cupcake_Princess

CLICK HERE for more details, past spotlights, and to enter your Goatlings!

4 Comments
‹ First
<
3
4
5
6
7
>
Last ›