News And Announcements
Event Calendar
‹ First
<
3
4
5
6
7
>
Last ›

Goatling Spotlight! Feenschatz!
Posted by

Krisgoat mod
on 2022-05-28 07:33:06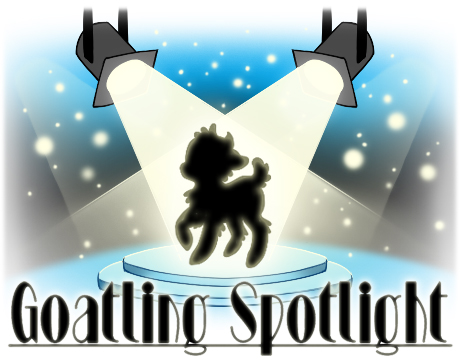 Welcome to Goatling Spotlight! A mini event where we get to show off your favorite Goatlings! Each week a new Goatling will be featured in the News and the owner will receive a shiny Spotlight Trophy to display on their pets page or in their collection. This week is all about Feenschatz!




Name: Feenschatz
Appearance Doll: Fluttergoat AD
Guardian: @Frootie Give Love!
Bio: Feenschatz is a mysterious fluttergoat who loves to barter gold items for jokes! However, there is no humor in the world worth its wit for her Golden Pumpkin!




Favorite Treasure
Golden Pumpkin





Short Story

Come closer my dearest,
My humblest of cheers!
For we have golden-strewn laughter to hear!

When days turn to dark,
And dark turns to smolder,
It is then our quips grow brighter and bolder!

But never in ill-intent or tasteless,
Our jokes are fashionable, brightening, persuasive!

Forever and ever as our friendships unfold,
Always together,
Weight worth in gold!



Art by @Frootie

CLICK HERE for more details, past spotlights, and to enter your Goatlings!

1 Comments
‹ First
<
3
4
5
6
7
>
Last ›