News And Announcements
Event Calendar
1
2
3
>
Last ›

Goatling Spotlight! Eiphitlia!
Posted by

Krisgoat mod
on 06-17-18 02:54:43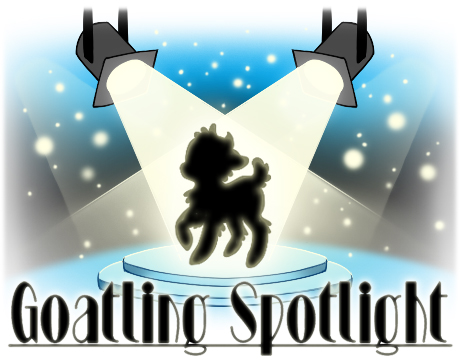 Welcome to Goatling Spotlight! A mini event where we get to show off your favorite Goatlings! Each week a new Goatling will be featured in the News and the owner will receive a shiny Spotlight Trophy to display on their pets page or in their collection. This week is all about Eiphitlia!



Name: Eiphitlia
Appearance Doll: The Fool Card AD
Guardian: @Owlish Give Love!
Bio: Eiphitlia is a shifty character, she often sneaks around and appears wherever she pleases. She's generally unwelcome, but strikes up little friendships with who she considers outcasts. Eiphitlia is very selfish, but enjoys a good adventure, a bit of gold, and a romance novel every now and then.




Favorite Treasure
Gold Ice Fury | Green silk cape | Blue Berries





Short Story
Eiphitlia used to be a princess, ready to take the throne in a few years. That all changed when she went for a walk in the royal garden and wandered into a secret tunnel. Scared and confused, Eiphitlia scampered onward. After a while, she came upon a mountain of gems, gold, and precious fabrics. Filling the pockets of her little pink princess dress, Eiphitlia became overcome with greed. Soon her look simmered into a sly snarl, and she fashioned the clothes of the precious fabric that she had found to fit her new personality. She ran away, and now is only seen in places mysterious and unknown. Her family did not weep over her parting, they simply replaced her with her brother, and moved past it. The legend of Eiphitlia is one hard to find, for only few know it...





Art by @Objection



art by @tigerbunneh

CLICK HERE for more details, past spotlights, and to enter your Goatlings!
4 Comments
1
2
3
>
Last ›