News And Announcements
Event Calendar
1
2
3
>
Last ›

Design-A-Goatling Event - WINNERS for Decades of Fashion - 1940's!
Posted by

Krisgoat mod
on 11-21-19 10:23:15


The votes are in for the most popular Decades of Fashion Goatling! Thank you all for entering so many amazing designs and voting for your favorites!

The top votes go to:

464 @r00p - First Place
272 @Steinbit - Runner Up
225 @friendlyFrog - Honorable Mention
101 @MidWinter
079 @MewmewRAWR
058 @BeautyBurnsGold
048 @PinkBunnie
036 @Anemone_
023 @kuhken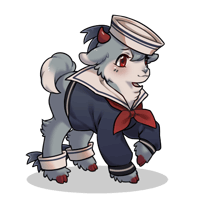 Congratulations everyone! r00p's Hey Sailor design is now permanently available in the Appearance Doll Shop!








All design participants will receive a "Hey Sailor Top" for their HA Buddy! This item is now permanently stocked at HA Buddy Hats.









Bonus items!
Hey Sailor Hair, Hey Sailor Hat, and Hey Sailor Face. (Click the name to shop!)

Prizes have been distributed! Thank you all for participating!



10 Comments
1
2
3
>
Last ›