News And Announcements
Event Calendar
1
2
3
>
Last ›

Goatling Spotlight! Valentinus!
Posted by

Krisgoat mod
on 12-09-18 12:02:14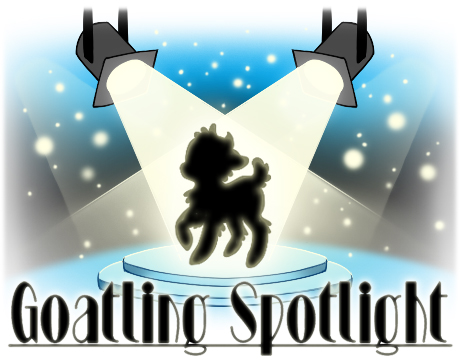 Welcome to Goatling Spotlight! A mini event where we get to show off your favorite Goatlings! Each week a new Goatling will be featured in the News and the owner will receive a shiny Spotlight Trophy to display on their pets page or in their collection. This week is all about Valentinus!



Name: Valentinus
Appearance Doll: Silver Antler AD
Guardian: @AngelOShadows Give Love!
Bio: She usually isn't 'up to' many things. She loves drinking tea, and will sometimes smile when she is in the company of Sizaan. She's very gloomy, but she seems more peaceful when she's watching snow or rain fall.




Favorite Treasure
Porcelain Teacup | Sugar Star Charm Box





Short Story
She grew up in a small village as a herbalist, mainly for teas and the like. She fell in love with a blacksmith, and they had planned out their whole future together. However, one day a queen came, and took her darling away. She has become very mournful about losing him, and oftentimes spends time with Sizaan. She still thinks about Frosts daily, still she sometimes she finds small items and letters at her windowsill...



Art by @Tada

CLICK HERE for more details, past spotlights, and to enter your Goatlings!
1 Comments
1
2
3
>
Last ›