News And Announcements
Event Calendar
1
2
3
>
Last ›

August - Treasure Trivia!
Posted by

Krisgoat mod
on 08-12-18 11:16:01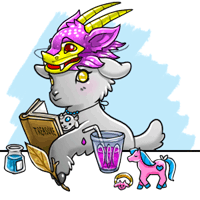 "Oh hey! Did you see that new item being stocked in the shops? I want 20! I just love collecting new items for my treasure. I keep an inventory of my collection in this book so I can make sure I don't miss one. Although, I spilled my drink on this page and now the image is smudged. Of course I can still tell what it is. If you can, I'll give you one of my duplicate items!"







Click here to play Treasure Trivia now!


Win a My Lovely Beach Horse and 3,000 Sugar Stars! This item is now permanently stocked at the Toy Shop as well!

My Lovely Beach Horse is an original member design by @theidiot so make sure to send a little extra love today!

Note: New Treasure Trivia games start at the beginning of each month. Treasure Trivia prizes do NOT retire. The prize is typically a special new Shopping District item.

7 Comments
1
2
3
>
Last ›