News And Announcements
Event Calendar
&nbsp<&nbsp1&nbsp&nbsp2&nbsp&nbsp3&nbsp&nbsp4&nbsp>&nbspLast ›

Goatling Spotlight! Thanasius!
Posted by

Krisgoat mod
on 2023-11-11 11:21:09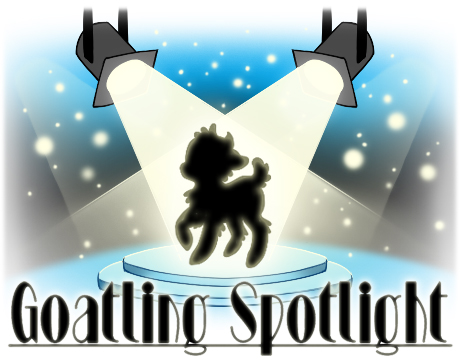 Welcome to Goatling Spotlight! A mini event where we get to show off your favorite Goatlings! Each week a new Goatling will be featured in the News and the owner will receive a shiny Spotlight Trophy to display on their pets page or in their collection. This week is all about Thanasius!




Name: Thanasius
Appearance Doll: Memento Mori AD
Guardian: @Rosey818 Give Love!
Bio: A wandering soul, one of which often accompanies Aeilaeifr after they meet in a haunted forest. Butterflies and beautiful creatures seem to follow him around constantly. Even with their melancholic nature, they are far deadlier than any poison could ever hope to be. (He/They - Masc Nonbinary)




Favorite Treasure
Birdcage | Deadly Nightshade | Wedding Band






Short Story
Thanasius had always been alone, that was simply how it had been. Sitting in the dew-filled morning and watching the sun struggle through the fog and leaves that forever entrapped the lone goat. Well...that was until a loud crash and some not-so-nice language interrupted the repetitive morning.

Tilting their head gently to the side, he watched the direction the noise came from when an odd goat stumbled from out of the brambles. The other had a ragged cloak slung around them in a quite obvious attempt to hide their appearance, though the tears and half fallen off cloak weren't helping much with that anymore. Standing slightly from the odd throne, a dilapidated one Thana had found one day in what he had originally thought was the ruins of a church, and moved silently toward the other.

Despite no sounds and no presence coming from Thanasius, the goat before them whipped their head around to look at them, keen eyes scanning them for possible danger. It was almost impressive at the speed at which they reacted, and yet, the thing that drew his attention most was the floating rocks, although they truly looked like tiny moons, that materialized around the other as some form of defense.
Read the rest here!

CLICK HERE for more details, past spotlights, and to enter your Goatlings!

2 Comments
&nbsp<&nbsp1&nbsp&nbsp2&nbsp&nbsp3&nbsp&nbsp4&nbsp>&nbspLast ›