News And Announcements
Event Calendar
<
1
2
3
4
>
Last ›

Goatling Spotlight! Eirlys_Bewitched!
Posted by

Krisgoat mod
on 2020-09-12 10:24:56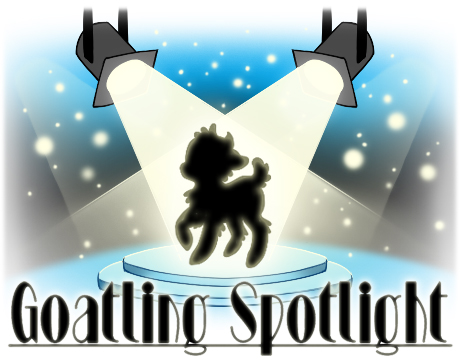 Welcome to Goatling Spotlight! A mini event where we get to show off your favorite Goatlings! Each week a new Goatling will be featured in the News and the owner will receive a shiny Spotlight Trophy to display on their pets page or in their collection. This week is all about Eirlys_Bewitched!




Name: Eirlys_Bewitched
Appearance Doll: Nightshade AD
Guardian: @lilypadmeulin Give Love!
Bio: Eirlys is a somewhat mysterious goat who has made her home in the Enchanted Forest. She's withdrawn, but is dating Budding_Flowers, and lives happily, often helping out anyone who knocks at the door of her cottage.




Favorite Treasure
Carnival Ticket | Sunflower Seed Soup





Short Story
Eirlys, unlike the other goats, doesn't actually live in the house. Instead, she lives in the Enchanted Forest, in what might basically be called a witch's cottage. She spends a lot of her time reading or walking through the forests, and mostly, the baddies don't actually mind her.

She's still part of the herd, but as she prefers to live alone, this is perfect for her. There's also something about her that causes other goats to feel a little uneasy, although they don't know what this is. In reality, the fact is that Eirlys is a lot older than she's ever admitted to, and when she wandered into Palace Town, she had woken up in the Phantom Forest. Even she doesn't know how long she had been asleep, or exactly where she came from.

However, our beautiful local cryptid does enjoy the 'family dinners' that are hosted at the house, and always attends, bringing gifts for everyone when she does. She prefers to spend her time with Budding_Flowers, her partner.

At the 2019 Summer Carnival, she agreed to go look around the booths with Bud, and ended up confessing to her. The two of them have been dating ever since.

Her favourite food is Sunflower Seed Soup, and she appreciates that Bud always makes sure to have it in for when she visits.



Art by @JarateKid

CLICK HERE for more details, past spotlights, and to enter your Goatlings!

1 Comments
<
1
2
3
4
>
Last ›