News And Announcements
Event Calendar
<
1
2
3
4
>
Last ›

Goatling Spotlight! Kravan!
Posted by

Krisgoat mod
on 2021-07-17 10:18:03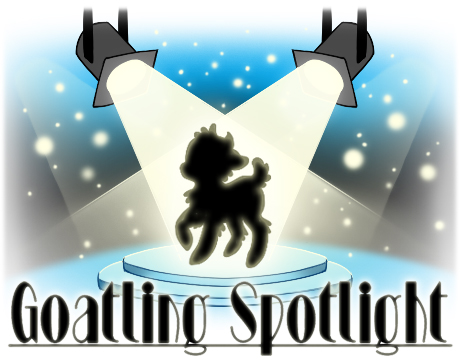 Welcome to Goatling Spotlight! A mini event where we get to show off your favorite Goatlings! Each week a new Goatling will be featured in the News and the owner will receive a shiny Spotlight Trophy to display on their pets page or in their collection. This week is all about Kravan!



Name: Kravan
Appearance Doll: Orchid Mantis AD
Guardian: @Verndusk Give Love!
Bio: Kravan is a mischievous yet sweet goat who is the smallest of his siblings. He thinks he is a plant, and therefore thinks that a good hydration plan will make him grow taller! He wants to be the tallest out of his family - so far he hasn't grown too much, but at least his fur is incredibly well kept. He's very healthy and loves to drink lemongrass tea. His favourite fruits are peaches and cherries, and always plants the pits and seeds back in the ground after he eats some.





Favorite Treasure
Growth Potion | How to Grow | Longevity Peach Buns | Tea Tin







Short Story
A summer day in the countryside, with an ongoing hiking trip made by Kravan's siblings. He bought his favourite peaches and cherries and other fruits - and ate them all on the way. His siblings got angry with him, "You're eating all the fruit!" they yelled. Kravan kept sneaking to the fruit basket and having the fruit - being the last one on the path. He did not worry - and even stayed behind further to plant the seeds of the fruit back into the soil on the road. The hike was to their grandparents' house, where they stayed for a while. When they had to return, they forgot their map! But they found their way thanks to Kravan's path of little fruit trees that sprouted out of the ground whilst they were resting.



Art by @Verndusk

CLICK HERE for more details, past spotlights, and to enter your Goatlings!

2 Comments
<
1
2
3
4
>
Last ›