News And Announcements
Event Calendar
&nbsp<&nbsp1&nbsp&nbsp2&nbsp&nbsp3&nbsp&nbsp4&nbsp>&nbspLast ›

Goatling Spotlight! Kurashita!
Posted by

Krisgoat mod
on 2023-05-20 10:34:36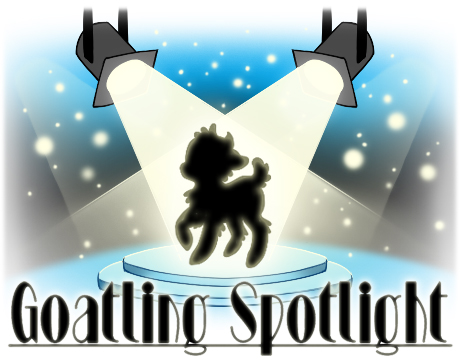 Welcome to Goatling Spotlight! A mini event where we get to show off your favorite Goatlings! Each week a new Goatling will be featured in the News and the owner will receive a shiny Spotlight Trophy to display on their pets page or in their collection. This week is all about Kurashita!




Name: Kurashita
Appearance Doll: Goldfish Princess AD
Guardian: @Lunaco Give Love!
Bio: A shy and reserved goat, Kurashita would much rather spend her days at the aquarium or at home taking care of her pet jellyfish Clara.




Favorite Treasure
Pink Jellyfish | Origami Fish





Message From Kurashita
" I just want to rock gently on the oceans waves.. "



Art by @Lunaco

CLICK HERE for more details, past spotlights, and to enter your Goatlings!

3 Comments
&nbsp<&nbsp1&nbsp&nbsp2&nbsp&nbsp3&nbsp&nbsp4&nbsp>&nbspLast ›