News And Announcements
Event Calendar
&nbsp1&nbsp&nbsp2&nbsp&nbsp3&nbsp>&nbspLast ›

March Design-A-Goatling Contest | FINAL VOTES
Posted by

Krisgoat mod
on 2023-03-28 12:11:39


Greetings Fanlings!

It's time to vote for your favorite Design-A-Goatling entry! This month's prompt is "Enchanted Forest"! Members get to cast one vote per contest, so choose wisely as votes cannot be changed. Below is this month's selection. Click for a larger preview!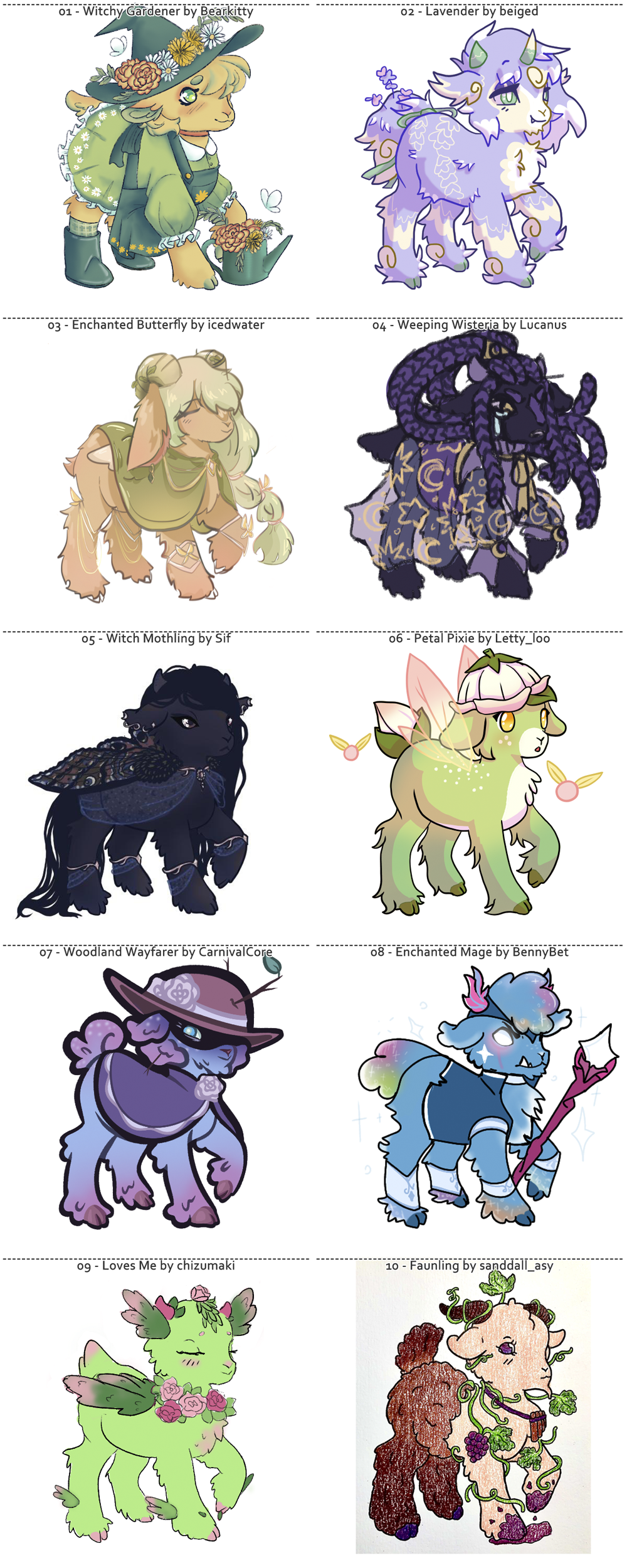 01 - Witchy Gardener by @Bearkitty
02 - Lavender by @beiged
03 - Enchanted Butterfly by @icedwater
04 - Weeping Wisteria by @Lucanus
05 - Witch Mothling by @Sif
06 - Petal Pixie by @Letty_loo
07 - Woodland Wayfarer by @CarnivalCore
08 - Enchanted Mage by @BennyBet
09 - Loves Me by @chizumaki
10 - Faunling by @sanddall_asy

Voting will be open until about March 31st. Giving or taking a day due to differences in timezones.

+ First Place Prize - Free AD/RAD of their designs and items, and an Adoption Ticket
+ Runner Up Prize - 30 Goat Tokens
+ Honorable Mention Prize - 20 Goat Tokens
+ All design participants will receive a special gift inspired by the winning entry.

First Place design will be permanently added to the Explore Area, and the designers name will be added to the items description. At least one item, and one RAD inspired by the winning design will also be added to the Explore Area. Official entry and voting polls will be announced in the News.

Please note: While hyping up various designs is encouraged, bribing/paying members to vote for a specific design ruins the spirit of a fair outcome. Likewise, creating multiple accounts (for yourself or others) in order to place more votes is against our Terms Of Service and will result in a ban of all related accounts. Every entry deserves a fair chance!

Designs that were not selected, or do not win the Final Vote, may be resubmitted as future contest entries! There is a two month entry cool down for members who won First Place in the previous month's contest. Click Here for more contest info and schedule.


16 Comments
&nbsp1&nbsp&nbsp2&nbsp&nbsp3&nbsp>&nbspLast ›