News And Announcements
Event Calendar
1
2
3
>
Last ›

Goatling Spotlight! Gifts!
Posted by

Krisgoat mod
on 06-07-20 03:36:15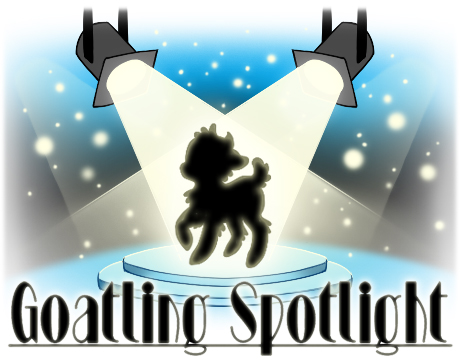 Welcome to Goatling Spotlight! A mini event where we get to show off your favorite Goatlings! Each week a new Goatling will be featured in the News and the owner will receive a shiny Spotlight Trophy to display on their pets page or in their collection. This week is all about Gifts!




Name: Gifts
Appearance Doll: Cotton Candy Clown AD
Guardian: @omgmall Give Love!
Bio: Gifts is a friend to all. They are always trying their best to cheer up the hearts around them! Gifts remembers everyone's birthdays and favorite cake flavors, they never miss a single party or birthday. Gifts is everyone's best friend, but is always trying to cheer up Octobernal, the gloomiest goat they know.

Likes: Sweet and sour candy, rainbows, cake, celebrations, cream soda, and making friends.
Dislikes: Disliking things!




Favorite Treasure
Party Pooper | Banana Split | Birthday Cake | Assorted Balloons







Short Story
Gifts froclicked happily down the road; which wasn't an unusual sight, springing about was their speciality after all! They carried a picnic basket sorted comfortably on their back, carrying fresh hot chocolate, teas, and a pack of sprinkled candy apples. A scarf was wrapped tightly around the goatling's neck—it's a chilly Autumn day.


It was time for Gifts usual plans to see their bestest friend in the entire kingdom of Palace Town, Octobernal! Octobernal was quite literally Gifts opposite: their voice was flat and devoid of any clear emotion, and they did not spend their time frolicking around Palace Town, cheering up the hearts around them and spreading joy. Instead, Octobernal's house was tucked away into the Enchanted Forest, and their days was spent in the fields, farming.

Gifts never complained about the walks there—it was better than their old cottage back in the Phantom Forest, anyway—and Gifts loved nothing more than to see their bestest friend. Although not the cheeriest of spirits, Octobernal had a warm relationship with Gifts and enjoys their daily visits.

A long walk finally would reveal the Enchanted Forest, a beautiful glittery land covered in luscious trees. The majority had a grand green foliage, though some had colors that were out of this world. Some skipping through the trees would come to show a stone road, which once followed, led you to a dark grey and brown cottage, cuddled up by trees. There was a plot of land covered in crops, and the cottage had a chimney which gave off warm smoke. The cottage, when compared to the forest, was quite a dreary sight, the golden and colorful trees looked out of place next to the darkened home.

Now for some, this is when you'd think "Let's not explore this one!" and you'd turn back on your way, but for Gifts, the sight of this murky house gave them a warm feeling. They cheerily pranced up the steps and to the door, pulling the big black door knocker 3 times. It took about a minute, but the door opened at a dead pace, creaking as it did...

CLICK HERE for more details, past spotlights, and to enter your Goatlings!

1 Comments
1
2
3
>
Last ›