News And Announcements
Event Calendar
1
2
3
>
Last ›

Goatling Spotlight! Croakus!
Posted by

Krisgoat mod
on 2020-11-21 09:37:20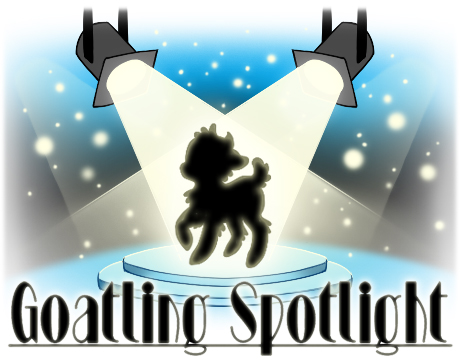 Welcome to Goatling Spotlight! A mini event where we get to show off your favorite Goatlings! Each week a new Goatling will be featured in the News and the owner will receive a shiny Spotlight Trophy to display on their pets page or in their collection. This week is all about Croakus!




Name: Croakus
Appearance Doll: Snow Crocus AD
Guardian: @LumiGloom Give Love!
Bio: Croakus is a very well mannered but shy goatling. He is easily spooked, and can't stand the dark. The cloak draped around his shoulders is somewhat of a security blanket, the soft faux fur of the cloak mimicking the presence of another goatling, which he found comforting in many scary situations. He wears a brown feather he found dropped by an owl behind his right ear.




Favorite Treasure
Brown Feather


Short Story
"Oh my gosh, I'm sorry," a hushed voice sounded, golden eyes falling to the floor. "I- I didn't mean to interrupt."
A soft blue gaze fell on the shorter goat, sympathetic, yet confused. "Interrupt? Dear boy, there was no one speaking for you to interrupt."
"I must have, I can feel it in my hooves," The goat with golden eyes scraped at the ground. "I have interrupted your thoughts, and I haven't stopped since you are now focused on me and not your mind. I am sorry; I will leave."
"Don't," The bigger goat stepped forward. "Don't go. You see, there was no one here speaking to me, but now there are sounds coming from your chest. You must be speaking to me. Please, I am lonely. Don't go. I like to hear you speak."
The goat with golden eyes looked suspicious, but he sat down with his long ears drooping more than usual. "You can't be sure?"
"I am," The bigger goat replied, sitting next to him. "My thoughts have gone uninterrupted for too long. What you have done is saved me from my mind. So please, fill my mind with new thoughts. What is your name?"
The goat with the cloak on his shoulders and the golden eyes blinked slow. "I am Croakus, and I am scared."
The bigger goat flicked her tail. "Of what are you scared?"
Croakus shrugged. "I do not know. Everything. Anything."
"If you do not know, why are you scared?" The bigger goat pressed.
Croakus breathed slow. "I am scared of not knowing, so I am scared."

Art by @LumiGloom

CLICK HERE for more details, past spotlights, and to enter your Goatlings!

1 Comments
1
2
3
>
Last ›