News And Announcements
Event Calendar
1
2
3
>
Last ›

Goatling Spotlight! Dysnomea!
Posted by

Krisgoat mod
on 2021-07-24 04:59:56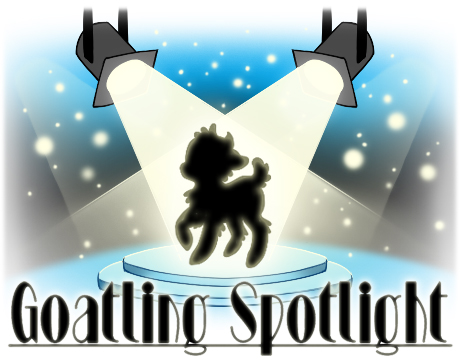 Welcome to Goatling Spotlight! A mini event where we get to show off your favorite Goatlings! Each week a new Goatling will be featured in the News and the owner will receive a shiny Spotlight Trophy to display on their pets page or in their collection. This week is all about Dysnomea!




Name: Dysnomea
Appearance Doll: Star Crossed AD
Guardian: @ValentineVal Give Love!
Bio: Dysnomea, named after the moon of planet Eris, is a mysterious goat who's thought to have a connection to the planets and space. It presents a feminine appearance yet has no gender. Dysnomea seem to be able to create miniature planes, solar systems and other space phenomena in smaller form. It is thought that Dysnomea is the very being keeping the universe stable, though this is only a legend.




Favorite Treasure
Nebula Star Friend | Nebula AD | Nebula Hair | Sugar Pop Star Tickets







Short Story
Dysnomea left its cabin on a starry night with a large telescope on its back.
Dysnomea put it down and looked at the sky, it was oddly black.
It sighed and looked again, where did the stars go?
It moved the telescope and the stars started to show!
Dysnomea was happy to spy,
all the stars in the night sky.



Art by @Fishie


Art by @Winn

CLICK HERE for more details, past spotlights, and to enter your Goatlings!

2 Comments
1
2
3
>
Last ›