News And Announcements
Event Calendar
&nbsp1&nbsp&nbsp2&nbsp&nbsp3&nbsp>&nbspLast ›

Saturday Night Bidding Wars!
Posted by

Krisgoat mod
on 2023-11-25 07:13:09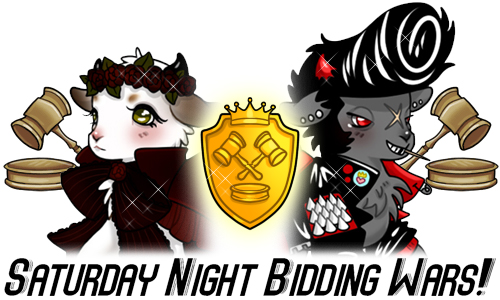 Saturday Night Bidding Wars has begun! These Auctions will be held a once a week and feature exclusive items that are only available on auction night! The auctions start on Saturday and go on for 24 hours.

Items that will be Auctioned each week:








+ 2 exclusive Appearance Dolls (Rockabilly and Velvet Rose)
+ Exclusive Gavel Display Name Icon
+ Exclusive Auction Badge
+ One rare baddy stamp. Stamps in rotation are;
Bongo The Furmidable Stamp, Tulip Tender Stamp, Moonlit Rogue Stamp, Lucky Stamp, Tiangou Stamp, Fire Rooster Stamp, Thoth Stamp, Masked Rival Stamp, Ethos Stamp, Luck Dragon Stamp, Queen Snake Stamp, and Apostrophe Stamp.



----------------------------------------------





CLICK HERE TO BID!





----------------------------------------------


Rules and Guidelines
- Members may bid on multiple items and as many times as they like.
- Members may win multiple times in a row.
- Members may also snipe bids (bid as the auction is about to end).
- Members may do whatever they want with the items after they have won them. Such as sell, give away, hoard, or even pawn.
- Auctioned items will not retire.
- We understand that auctions may become intense, but please do not be frustrated or discouraged. There's always next week!
- Members who pester or disrespect others who have placed bids and/or won an auction will be permanently banned from Goat Mail and Forums.
This IS a friendly bidding war so stay tough, calm, and have fun!

Thank you!


1 Comments
&nbsp1&nbsp&nbsp2&nbsp&nbsp3&nbsp>&nbspLast ›