News And Announcements
Event Calendar
1
2
3
>
Last ›

Goatling Spotlight! AngelicPretty!
Posted by

Krisgoat mod
on 05-31-20 03:35:01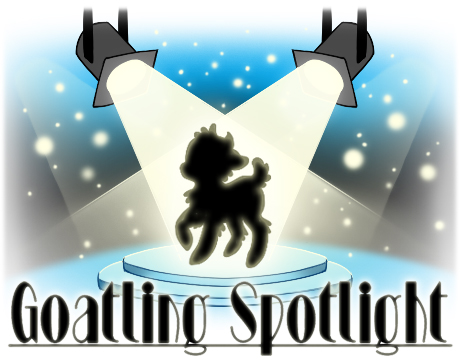 Welcome to Goatling Spotlight! A mini event where we get to show off your favorite Goatlings! Each week a new Goatling will be featured in the News and the owner will receive a shiny Spotlight Trophy to display on their pets page or in their collection. This week is all about AngelicPretty!




Name: AngelicPretty
Appearance Doll: Tea Party AD
Guardian: @chiffon Give Love!
Bio: AngelicPretty is the princess of a small, isolated kingdom that prides itself in its beauty and rich bounty of fine silks and cloth. As the youngest of five sisters, Angel does not have many royal duties. Instead, she spends her time in a quaint cottage within her family's grand estate. Each she tends to her beautiful garden, sews new dresses for herself and spends the rest of her days sipping on a warm cup of rose tea. Though she wishes for more adventures, she has little say in the matter when her father hires a young knight to keep watch over his youngest daughter.




Favorite Treasure
Ethos Gem 6 | Rose Tea | Pink Heart Mallow




Art by @sadrat

CLICK HERE for more details, past spotlights, and to enter your Goatlings!

1 Comments
1
2
3
>
Last ›