News And Announcements
Event Calendar
‹ First
<
2
3
4
5
6
>
Last ›

Goatling Spotlight! Birdygirl!
Posted by

Krisgoat mod
on 05-03-20 03:39:12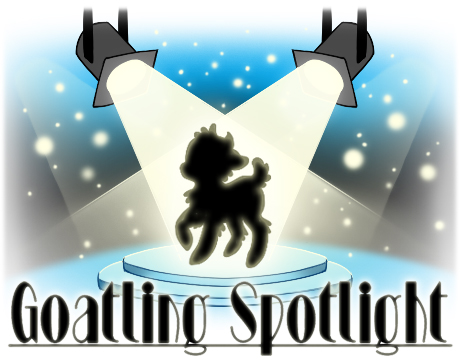 Welcome to Goatling Spotlight! A mini event where we get to show off your favorite Goatlings! Each week a new Goatling will be featured in the News and the owner will receive a shiny Spotlight Trophy to display on their pets page or in their collection. This week is all about Birdygirl!




Name: Birdygirl
Appearance Doll: Fledgling AD
Guardian: @Cantbecreative Give Love!
Bio: Birdygirl is a caring goat that spends her time creating a peaceful garden so that other goats and animals can have a place where they feel like they belong. She has also offered up her head to be used as a home for baby bird eggs to help out her bird friends where they had nowhere else to go, because of this she now spends a lot of time with the bird parents




Favorite Treasure
Rosemary Spring | Blue Bird Plush


Art by @peachylotl

CLICK HERE for more details, past spotlights, and to enter your Goatlings!

5 Comments
‹ First
<
2
3
4
5
6
>
Last ›