News And Announcements
Event Calendar
‹ First
<
14
15
16
17
18
>
Last ›

Special Event Baddy Haunted Portrait and Battle Crafts!
Posted by

Krisgoat mod
on 10-08-19 01:27:20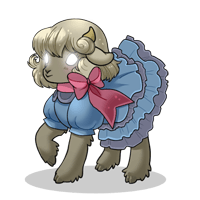 An unexplained apparition has appeared at the Battle Center for a special Monster Masquerade visit! It seems to be Haunted Portrait, but how can she be in two places at the same time unless... one is a... g-g-g-ghost!?

It appears the loot found while battling Haunted Portrait are quite unique! Take these to Zurora to exchange them for limited edition Mascot Plushies! Check the Crafting Master section of the Recipe Book to remember the formula posted below!

+

+

=


Evil Scientist Blob + Evil Scientist Spill + Evil Scientist Lens = Evil Scientist Plush



+

+

=


Weird Witch Blob + Weird Witch Scrap + Weird Witch Clock = Weird Witch Plush



+

+

=


Evil Scientist Plush + Weird Witch Plush + Weird Science Fire = Weird Science Plush





Don't forget to save a couple stamps for your collection! If you're really lucky you may win a few Goat Tokens to use on the seasonal Token Game!

Haunted Portrait will stick around until about October 31st. After that she will leave us until next year and their limited edition loot will retire. (Excluding stamps and Goat Tokens.)

7 Comments
‹ First
<
14
15
16
17
18
>
Last ›