News And Announcements
Event Calendar
‹ First
<
15
16
17
18
19
>
Last ›

Goatling Spotlight! Dazzle!
Posted by

Krisgoat mod
on 12-16-18 03:29:50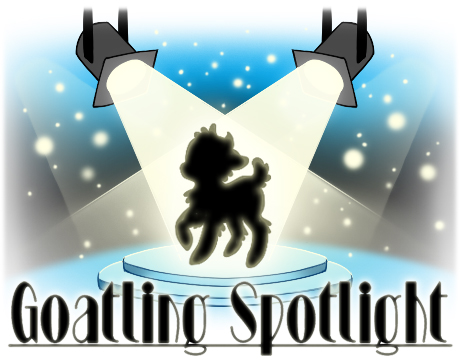 Welcome to Goatling Spotlight! A mini event where we get to show off your favorite Goatlings! Each week a new Goatling will be featured in the News and the owner will receive a shiny Spotlight Trophy to display on their pets page or in their collection. This week is all about Dazzle!




Name: Dazzle
Appearance Doll: Stargazer AD
Guardian: @Hoof Give Love!
Bio: Dazzle is a shy goat who doesn't appear to talk - at least, that's what most goats think! She's fully capable of speech and is quite articulate when it comes to her job. But when it comes to friends and non-professional interactions, it's not so easy.




Favorite Treasure
Sugar Star Charms and Sugar Lumps












Short Story
While Dazzle is a professional when it comes to astrology, she practices her dazzle magic with great luck! She can summon anything sparkly, gleamy or dazzling in an instant but her favourite thing to summon are sugar star charms! She gives them to all her friends and uses them as a means of silent communication as she is quite shy.

CLICK HERE for more details, past spotlights, and to enter your Goatlings!
1 Comments
<
1
2
3
4
>
Last ›