News And Announcements
Event Calendar
‹ First
<
5
6
7
8
9
>
Last ›

Goatling Spotlight! Vyrgoat!
Posted by

Krisgoat mod
on 08-04-19 12:26:52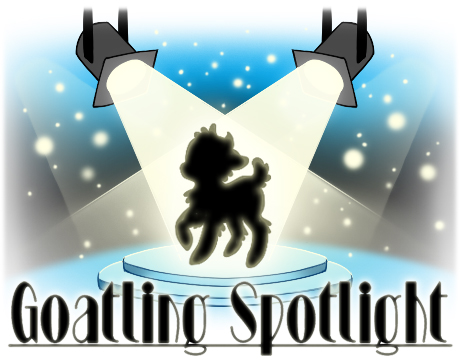 Welcome to Goatling Spotlight! A mini event where we get to show off your favorite Goatlings! Each week a new Goatling will be featured in the News and the owner will receive a shiny Spotlight Trophy to display on their pets page or in their collection. This week is all about Vyrgoat!




Name: Vyrgoat
Appearance Doll: Virgo AD
Guardian: @MegaraBane Give Love!
Bio: +~ Little goddess of the harvest ~+ Vyrgoat might not be the oldest physically, but she's definitely the oldest soul of the troop. She loves reading and fine teas; trying new teas is her second-favorite thing, just behind books. She's always ready with an answer to any of the troop's problems, whether Tanooki and Skyflyer got into another fight, Aero's looking for new recipes, or Bayne discovered a new area he's unsure how to handle, and if she doesn't have an immediate answer, it's sure that one of her many books will. Vyrgoat can usually be found in the library, curled up in her nook with a cup of tea and a good book, but she can always be drawn out with a good meal (in which Aero specializes).




Favorite Treasure
Peridot Gladiolus Sword | Book About Jupiter | Cozy Tea 3 | Porcelain Teacup | Phantom Tea








Short Story
"Vyr-goooooat!"

She sighed, looking up at the ceiling. They just couldn't leave her to her tea and reading, could they? With physical effort, she set down her book, just titled Jupiter, took another sip of her tea from her favorite porcelain teacup, and rose to her hooves.

"I'm coming, Tanooki," Vyrgoat called, unsure of where the littlest troop member would be hiding. She didn't have to wait long—the doors to the front of the library burst open before she could even stretch. The little blue goatling raced in, eyes wide and tear-filled. He skidded to a halt in front of her, nearly running her over.

"Vyrgoat, can you fix my toy? Kytsune ripped it!" he wailed, grabbing a small plush from where it was riding his back and holding it up to her desperately. Vyrgoat took the plush gently on one foot, peering at it. The Firetail Fox plush was definitely ripped; one leg was hardly hanging on by a thread.

"I told you, it was an accident!" Kytsune, nine tails bushed up, stomped in after Tanooki, shaking his head. Skyflyer was hot on his heels. Vyrgoat fixed them both with a stern look, making them draw up short. No matter the prank that Kytsune sets up, Skyflyer is always involved somehow. Bayne was supposed to be watching them. Where is he?

She shook herself mentally. I'll fight with him later.

"What happened?" she asked instead, trying hard to keep her voice level. Tanooki began sniffling all over again. She stretched her wing over his back soothingly.

As Kytsune recounted to her the details of his latest prank—some hare-brained scheme that involved Aero's latest bakery confection, a fishing lure, Bayne's silver locket, and Tanooki's unfortunate fox plush—Vyrgoat pulled her sewing kit from the emergency box she kept in her reading nook.

It wasn't a hard fix—just put some stitches here, adjust the fur there, tie the thread and bite it off—and before Kytsune was even finished talking, the repaired toy was back in Tanooki's eager hooves. He gave her a quick hug, stuck his tongue out at Kytsune (Pick your battles, Vyrgoat…), and took off running out of the library.

"You both know better," she scolded firmly. Kytsune looked away and Skyflyer turned red. "If you're going to play pranks on people, don't pick on Tanooki, and don't do things that will upset him. Where's Bayne? He was supposed to be watching you two."

"Aero asked him to help her in the kitchen," Skyflyer replied in a small voice. Vyrgoat closed her eyes and sighed. I'm getting a headache.

"Just—stay out of trouble." She fixed the two biggest troublemakers in the world with a firm stare. "If you don't, you'll be in more trouble with not just me but Bayne and Aero too. Understand?"

They both gave quick nods and before Vyrgoat could change her mind, spun and took off running. The library doors slammed behind them. She sighed and sat down heavily back in her nook. Despite herself, she found a smile pulling at her lips.

At least there's never a dull moment. She picked her book back up and hoped against hope that she could get through at least one chapter before something else happened.

CLICK HERE for more details, past spotlights, and to enter your Goatlings!
2 Comments
1
2
3
>
Last ›