News And Announcements
Event Calendar
<
1
2
3
4
>
Last ›

Goatling Spotlight! Altostratus!
Posted by

Krisgoat mod
on 12-01-19 12:32:21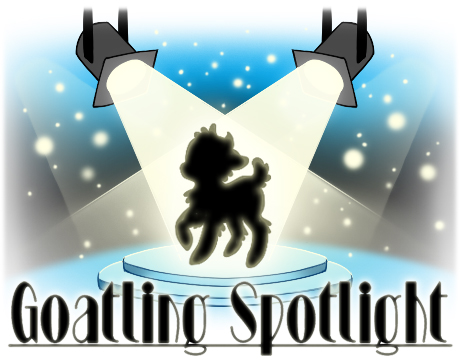 Welcome to Goatling Spotlight! A mini event where we get to show off your favorite Goatlings! Each week a new Goatling will be featured in the News and the owner will receive a shiny Spotlight Trophy to display on their pets page or in their collection. This week is all about Altostratus!




Name: Altostratus
Appearance Doll: Night Phantom AD
Guardian: @Funnybone800 Give Love!
Bio: "hm...Welcome"
"hm...Welcome"


A fool who went power hungry...If a weather god knows where he is, they're advised to find him- he can be quite the danger.





Favorite Treasure
Shard of Glass | Bottled Clouds





Short Story


Alto was once a loved member of the weather beasts, He used to control the rainstorms and the watery dew that showed up every morning on plants, working close with the sun bearers and the snow storms. Until one day Alto was approached by a mysterious goat. Who promised him power, and promised him control over means he would not otherwise have, they promised he'd be loved and appreciated for his power, all the figure asked for, was a small bottle of lightning.
Like a fool, he took the power.

Transformed into a horrible god of thunder, Alto would cause tornadoes and damage wherever he sought; destruction moved with him the longer he was allowed to do as he pleased, the lightning in his head made him go mad, made him lose it; this was all for the good of everyone, so why was everyone so scared? and Angry? When he was finally battled by the other weather beasts, he was locked away in a crystal ball for years, only to live as the look to the future, One of the weather beasts who held him closed used him as a toy, used him to tell goats of their futures- always sprinkling in a little bit of lies here and there, and Alto was angry, he needed to escape, to do what he wanted to, to take his revenge.

One day Alto escaped, He had managed to grow the smallest control over the crystal ball, rolling it off of the table he was perched on and smashing on the ground; He burst fourth, bright glowing glass following him from the smashed crystal ball- laughing maniacally as the storm overhead began to rage. He fled, Flying deep into the woods and disappearing from sights of those who wanted him locked up, those who know of him wish to hunt him down, but for now, he sits. He waits. And he plans.
To this day pieces of the glass he was once trapped in float around his being. Almost like a souvenir.



Art by @Candyspectre

CLICK HERE for more details, past spotlights, and to enter your Goatlings!
1 Comments
<
1
2
3
4
>
Last ›