News And Announcements
Event Calendar
<
1
2
3
4
>
Last ›

Goatling Spotlight! Binny!
Posted by

Krisgoat mod
on 10-15-17 03:11:05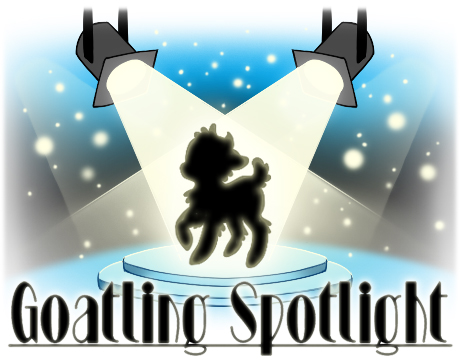 Welcome to Goatling Spotlight! A mini event where we get to show off your favorite Goatlings! Each week a new Goatling will be featured in the News and the owner will receive a shiny Spotlight Trophy to display on their pets page or in their collection. This week is all about Binny!



Name: Binny
Appearance Doll: Charmling AD
Guardian: @Wicked Give Love!
Bio: Binny is what I like to call a kidult. She is an adult and takes care of/protects her goatling family, but she is very much a kid at heart. She loves to collect plushies, and toys. Due to her Gemini nature she is very sweet, but can be a bit snarky sometimes.
Binny's name comes from a nickname of mine from years ago. I still tend to use it for usernames, occasionally...even if I find it too "cutesy" or a little kid-ish. A long time ago we had these neighbors and we (my little brother and I) would hang out with their kids a lot, since they liked us for some reason (lol). The boy couldn't say my name probably and would call me "Binny". That is where that name comes from.


Favorite Treasure
Fawn Plush | Pengu Plush | Axolotl Plush | Game Kid





Art by @Strobotic

CLICK HERE for more details, past spotlights, and to enter your Goatlings!
2 Comments
1
2
3
>
Last ›